At Aston Matthews we offer a design service so that we can make your interior dreams become a reality.
Bathrooms need to function, but they should look fantastic too. Whether you want a sleek, hotel style bathroom or a more traditional retreat our designer will create the ideal layout as well as suggesting fittings and finishing touches right down to the wallpaper and tiles.
---
Why use our design service?
Our designer will create a bathroom which works for you while also reflecting your personal style and the style of your home.
As we are not linked to one supplier we are able to offer a vast choice of both traditional and contemporary bathroom fittings which you can see and touch in our showrooms. Each of our suppliers has been carefully selected as the very best in the market in terms of design, quality, technology and aftercare.
By providing professional drawings for your architect or installer we will eliminate the risk of costly mistakes
There is a lot to consider when updating your bathroom, but our designer will turn this into a pleasurable, hassle free experience – giving you a professionally designed bathroom which will add value to your home.
---
Our professional design service starts in the showroom where we take an in-depth brief from you and guide you through the choice of products available.
Our designer will ask about your practical needs, your ideas and the style of bathroom you wish to achieve. It helps if you provide images that appeal to you so we can visualise your taste - this can be done on Pinterest or Houzz mood boards, or just tear pictures out of magazines.
Measurements are important; please provide the measurements of your bathroom, including positions of doors and windows, or your architect's plans.
Using the information given during your initial meeting, including a draft budget, our designer will create your unique design using 2D or 3D computer aided design (CAD) software. Drawing on years of industry and design experience we will prepare high quality plans or renders of how your room will look, including proposed colours, lighting and textures. At the same time we will prepare a quotation for all the proposed bathroom equipment and fittings. You will then be invited back into the showroom for a presentation.
During the presentation you will see a 2 and/or 3D plan of your room, a virtual 'walk through' of the space as well as rendered photographic images. We will also have samples of furniture and tiles plus colour swatches to give you a clear idea of how your finished room could look.
Once the design is agreed, we will provide floor plans, measurements and technical information on all products.
Our total fee for this design service is £300 per room for 2D design and £500 per room for 3D design.
The working drawings give the blueprint that any installer can work from eliminating the risk of costly errors or miscommunication.
2D PACKAGE £300
• site visit / working from given plans,
• 2D working drawing plan
• 2D working drawing elevations
• Lighting details & tiling details
These 2D drawings can be incorporated into your architectural drawings if needed
3D PACKAGE £500
• site visit / working from given plans,
• 3D photorealistic visuals
• Mood boards
• 2D working drawing plan
• 2D working drawing elevations
• Lighting details & tiling details
STEP BY STEP
• Initial consultation can be done in the showroom or during the site visit
• You will receive initial design concepts complete with mood boards, scaled drawings and proposed product quote
• We will invite you back into the showroom for a design presentation to review initial concepts, proposed products and finishes
• Any changes can be made at this stage
• Once the 3D package is commissioned and the initial layouts signed off, 3D renders will be produced and our designers will then provide final floor plans, complete with measurements as well as specification pack with information on all products
---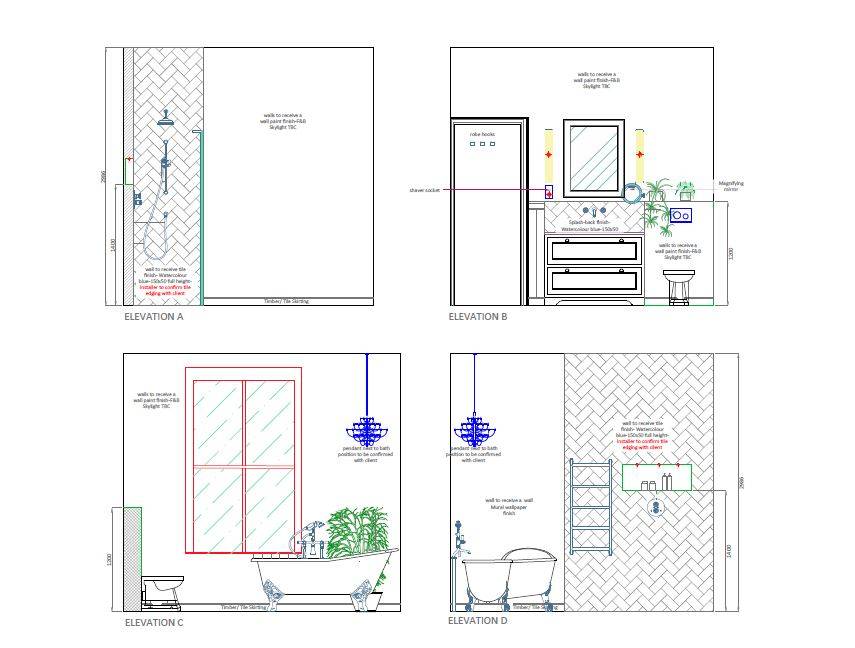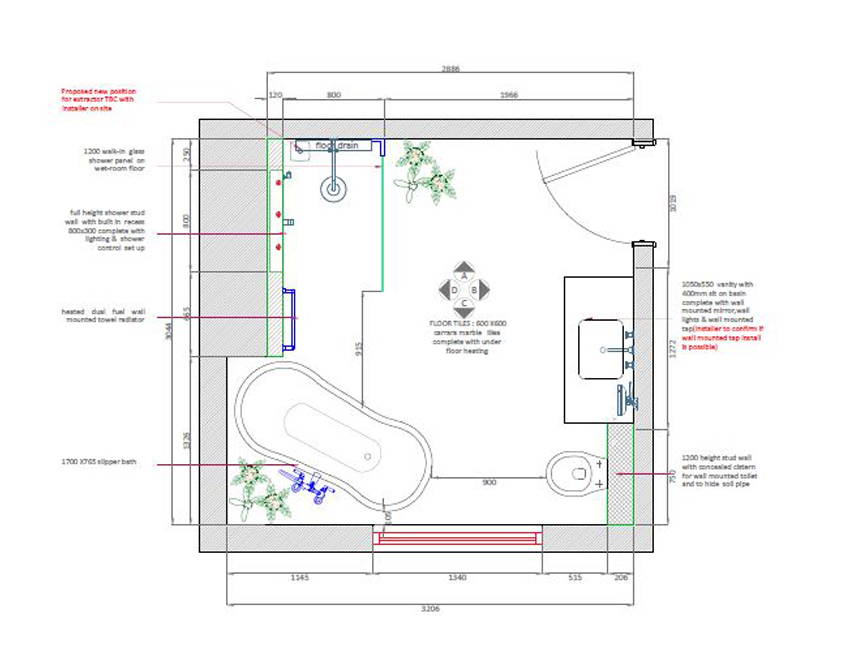 Due to the amount of detail and time that goes into your designs, please note that this is a chargeable non-refundable service